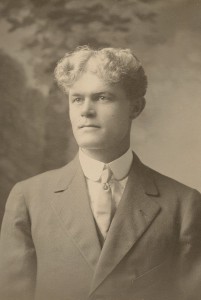 John Regard Misfeldt was the fourth child and third son of Ernest and Margaret Missfeldt.  He was the first of their 11 children to be born in the United States after they moved from Germany to north central Wisconsin.  John Regard was born January 26, 1879, at Jim Falls in Chippewa County, Wisconsin.
On September 12, 1912, he married Mabel Lena Hubbard at Red Cedar, Wisconsin.  It is believed they moved to their farm south of Thorp in 1919, which they affectionately named Breezy Hill.
Mabel Lena Hubbard was born November 6, 1889, at Peru (Red Cedar) in Dunn County, Wisconsin.
John and Mabel had four sons:
Loren LaVern was born March 21, 1913 in Thorp, Clark County, Wisconsin;
Clyde Chester was born January 20, 1916 in Thorp, Clark County;
Galen Glenn was born February 21, 1922 in Thorp, Clark County; and,
Roland Raymond was born May 1, 1924 in Thorp, Clark County.
John R. Misfeldt – January 26, 1879 to October 31, 1960.
Mabel L. Hubbard Misfeldt – November 6, 1889 to April 15, 1972.